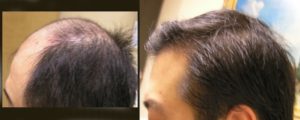 The modern hair transplant procedure is minor surgery performed in our office under local anesthesia and light sedation. It is generally an all day procedure during which the patient is awake. After the doctor carefully explains the entire procedure to you, your scalp is numbed.
The doctor then removes the donor hair via a long, thin strip or through tiny round incisions. The donor hairs, or strip, are separated under a microscope into individual units of 1-3 hairs each. Hair grows naturally out of our heads in groups of 1,2, and 3 hairs. We transplant them in these same groupings for the most natural pattern of hair restoration.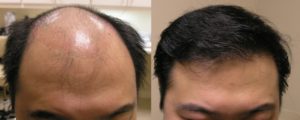 After all the hair is harvested, tiny recipient sites (needle-size incisions) are made in balding areas of the scalp. The individual grafts are then placed into these sites using very fine instruments.
Once all the grafts are placed, the scalp is cleaned, a surgical dressing is applied and the patient is set to go home.
After Hair Transplant Surgery


The site of the hair transplant procedure is visible for about a week to ten days after the graft. Some patients cover the area with their existing hair and others choose to wear a hat when they are in public.
Many patients return to work the next day and can resume normal activities the second day following their hair restoration surgery.
New hair growth starts to appear 2 to 3 months after the hair transplant and the hair restoration is usually fully mature in about a year.
Preparing for Hair Transplant Surgery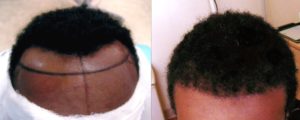 Prior to your hair restoration procedure, the doctor will conduct a complete review of your medical history and discuss the entire procedure with you. You should avoid alcohol, aspirin and other anti-inflammatory medications before your hair transplant. The morning of your procedure, all you need to do is shower and shampoo, wear loose fitting clothes and eat breakfast avoiding caffeinated beverages.
If you have questions about hair transplantation, please either contact us, or come in for a consultation to discuss your goals with Dr. Rabinovich. Please call us at (415) 935-3223 to schedule an appointment.