Dr. Rabinovich is a highly specialized facial cosmetic surgeon whose sub-specialty is facelift and necklift surgery. Dr. Rabinovich does not perform general body plastic surgery. He is a board certified facial cosmetic surgeon with extensive training in this particular region. He is one of only a handful of surgeons with this sub-specialty in San Francisco.
The Visage Rapid Recovery Neck Lift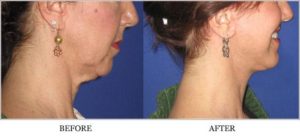 As we age, the youthful definition of the neck and jawline is often lost. Sagging or loose skin, excess fat, and lack of muscle tone are the most common concerns. The effects of gravity become more apparent.The Visage Lift differs because it addresses the deeper tissue by going under the muscle, sliding it upwards into its original youthful position. This technique results in less bruising and swelling since it lifts deeper beneath the muscle. Once the deeper tissue is lifted, the excess skin is trimmed. Scars heal better because there is no tension on superficial layers and skin. This lift results in a natural, softer look and creates definition along the jawline and neck, not tightness.
The Visage Lift is a partial lower facelift/neck lift which lifts the sagging muscles of the neck and jowls, eliminating them and creating youthful and natural definition, without the resulting tight look of older facelift and necklift techniques. This procedure incorporates the use of tissue glues rather than the older techniques of drains, to allow faster healing with less bruising and swelling and eliminate the pain, scarring and discomfort associated with postoperative drains. In addition, Dr. Rabinovich incorporates the use of post-operative vitamins and herbal supplements to expedite recovery.
The procedure can be performed under local anesthesia or twilight sedation, typically without general anesthesia. The procedure usually takes about 2 hours. Swelling and bruising usually subside fairly quickly, allowing most patients to return to work in two weeks. Patients usually wear their hair up within a few weeks without a visible scar.
Neck lifts are often performed in conjunction with face lifts, however, they can be performed alone when needed. In some patients, signs of aging show up more predominantly in the neck rather than on the face.
There are a number of procedures available to restore the youthful appearance of the neck. They include treatments such as Botox injections, neck liposuction, or a neck lift.
To decide what is best for you, please call us today at (415) 935-3223 or use the contact form to schedule your no-obligation consultation. Dr. Rabinovich will address your concerns and discuss your options for achieving a natural and more youthful appearance.