Orthognathic (Jaw) Surgery in San Francisco
Jaw discrepancies with malocclusion are most commonly a result of unequal growth of the jaws, but may also be caused by trauma, tumors, or other disorders. While minor jaw discrepancies can sometimes be managed by orthodontics alone, more complex jaw deformities affect both function and facial appearance and require a combined surgical and orthodontic approach. Since Dr. Rabinovich is known as one of San Francisco's top Jaw surgeons, many patients comes to us for San Francisco orthognathic surgery.
A maxillofacial surgeon and an orthodontist usually work as a team to evaluate and treat the problem in a comprehensive way. The main goals of orthognathic surgery are to achieve a correct bite, an aesthetic face. Nasal breathing problems may also be addressed at the time of surgery.
Orthognathic surgery is performed in a hospital or a surgery center in San Francisco under general anesthesia and usually requires an overnight stay. One or both jaws may be treated depending on the problem at hand. Most patients take 4-6 weeks off from work or school in order to recuperate after the procedure.
Cleft Lip and Palate Surgery
Cleft lip and cleft palate are birth abnormalities of the mouth and lip. They are the most common cranio-facial malformations and affect about one in every 700 babies. Although clefting is more common among Asians and certain groups of American Indians, it may occur in any ethnic group. A child can have cleft lip, cleft palate, or both. It is also important to know that most babies born with a cleft are otherwise healthy with no other birth abnormalities.
The causes of cleft lip and cleft palate are "multifactorial", which means that multiple genetic, as well as environmental factors may be responsible for the condition.
Children with cleft lip and cleft palate are usually treated by a team of specialists because the skills of many different areas are needed to help with the problems that can occur in cleft patients. The following are some of the members of the team: cranio-maxillofacial surgeon, orthodontist, pediatrician, pediatric dentist, speech pathologist, otolaryngologist and social worker.
The initial procedure to repair the cleft lip can be performed in the first several weeks of life. Cleft palate repair is usually done when the baby is 9 to 12 months. When the child is older additional procedures are often necessary. They include bone grafting to the upper jaw and surgery on the soft palate when the child is around 6 years old to allow for normal speech development, as well as jaw and nose surgery during the teenage years.
Working as a San Francisco jaw surgeon, Dr. Rabinovich has extensive training and experience in all aspects of cleft lip and palate surgery. He treats children with cleft lip and palate here in the United States and participates in medical missions abroad.


Facial Trauma
Facial trauma may be an isolated injury or a part of a more global trauma, involving multiple organs and systems. Facial reconstruction following trauma is different for each individual as it highly depends on the nature and location of the patient's injuries. The first priority in any trauma patients is treating life threatening issues, including injuries to airway, brain and other vital structures. The second priority in treating traumatic facial injuries.
The best way to prevent post-traumatic facial deformities is to obtain the appropriate treatment at the time of the injury by a qualified team of specialists. Delayed treatment has been replaced by early or immediate surgical treatment and stabilization of fractures. These new advances have allowed surgeons to approach and often reach the goal of restoring pre-injury facial appearance and function in a one-stage operative repair.
Surgery following facial trauma may take many hours, as the goal is to repair as much as possible in one operation. Broken facial bones are held in place with titanium mini-plates and surgical screws. Lacerations (tears) in the face are usually closed with sutures.
Dr. Rabinovich has unique qualifications in treating traumatic facial injuries. His training in cranio-maxillofacial surgery as well as facial plastic surgery is backed by experience of treating patients in some of the busiest trauma centers in the United States. If you or your loved one is in need of a facial trauma surgeon, we are here to help.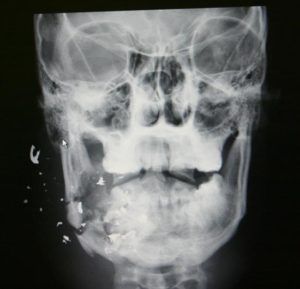 Patient with gun shot wound to right side of the face treated by Dr. Rabinovich, one of San Francisco's top facial surgeons.